In late 2019 we decided to produce an annual bookmark, to celebrate the wonderful images taken by the staff and our clients. Here is the story behind the photographs on our 2020 edition.
Hyacinth macaws in Brazil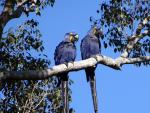 Hyacinth macaws
Nikki spotted these hyacinth macaws during her stay at Caiman Ecological Refuge, in the southern Pantanal, Brazil. At Caiman there is an ongoing hyacinth macaw project which studies the species, managing and monitoring both natural and artificial nests. The population has almost doubled in the monitored area since the project began in 1990.
Iguassu Falls, Brazil/Argentina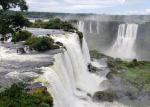 Iguassu
Andy Plimack sent us many wonderful pictures of his travels, including this one of the Iguassu Falls. This view is from the Brazilian side looking towards Argentina, with the Devil's Throat fall out of sight to the left of the picture.
Sacred Valley, Peru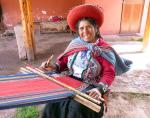 Weaver
Sue visited a local home in the small community of Cuper Bajo in the hills above Chinchero in the Sacred Valley. She saw a weaving demonstration and then hiked to Chinchero (6km) and then all the way back to the Explora hotel (9km).
Osorno volcano, Chile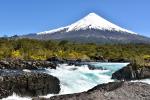 Osorno
Neil Symons sent us this lovely photo of Petrohué Falls in the Chilean Lake District, with Osorno volcano in the background. The Petrohué river drains lake Todos Los Santos (one of the lakes navigated during the famous Lake Crossing) before draining into the Pacific.
Lily, Guyana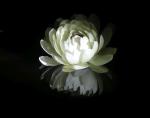 Victoria amazonica
Rona Varney took this atmospheric image of a Victoria amazonica lily flower, taken on a pond near Karanambu ranch, in Guyana. It is white on its first night of flowering and pink on the second, and is pollinated by a beetle. The Victorians went mad for this fascinating plant, the largest waterlily in the world, with Chatsworth winning the race to get one to flower in England (in 1849).