Earlier this year Last Frontiers sent Travel Editor of the Times, Jane Knight and her 12 year old son to Argentina. They stayed at the stunning, very recently opened Awasi lodge near Puerto Iguazú, which she then combined with a stay at Puerto Valle in the Iberá wetlands, stopping at the wonderfully atmospheric Jesuit missions en-route.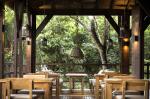 Dining room at Awasi Iguazú
Asides from the dramatic waterfalls, the surrounding jungle at Iguazú is abundant with wildlife, and just a short stroll sees blue morpho butterflies flitting past, the odd coati roaming across the path and birds calling from the trees. For those fans of the 1986 film 'The Mission' this must surely be a bucket list destination (I know it was for me) and an added benefit is that the lodge has special access to a local Guarani village.
En-route to the wetlands of Iberá further south, you pass some of the old Jesuit missions. Founded in the 17th century these buildings are beautifully constructed using bricks made from the rich red earth and many now being taken over by the surrounding jungle making for a very atmospheric experience.
The Iberá wetlands are a real haven for wildlife and Puerto Valle sits on the shores of the Paraná River. Excursions are made in search of wildlife including capybara, marsh deer, caiman and a number of bird species and there are also activities such as riding on the estancia itself, which dates back to 1868.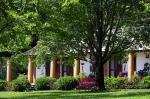 Puerto Valle
Our suggested nine day itinerary includes three nights at the new Awasi property at Iguazú, three nights at Puerto Valle in the marshlands of Iberá and a final night at the Four Seasons Hotel in Buenos Aires. Flights are included, internationally with Norwegian Airlines who started operating to Buenos Aires in February.
Prices start at £5,425.00 per person based on two people travelling together and sharing a room. Includes full board at Iguazú and Iberá, all transfers and excursions (shared in Iberá and private elsewhere).
Or for a longer trip both lodges could be used in our more comprehensive 'Northern Argentina' itinerary, or included in our longer 'Classic Argentina' itinerary www.lastfrontiers.com/argentina/itineraries
Jane's beautifully written article can be found in the 24 March edition of the Saturday Times and if you have never seen the film, I highly recommend it.
"Puerto Valle was outstanding in every way. We had an excellent tour to the wetlands and our guide found us a vast array of birds and animals" - HH