Antarctic cruise operator One Ocean will have a series of rare prints from Scott's final expedition in their libraries for the next three Antarctic seasons (until March 2018).
All images are subject to copyright. © Scott Polar Research Institute University of Cambridge.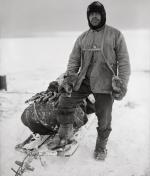 Capt. Scott. April 13th 1911.
This will be the first time that these historic photographs of Captain Scott's last Antarctic expedition are exhibited at sea and will be available in the libraries of both Akademik Ioffe and Akademik Sergey Vavilov.
The prints are handmade from Ponting's original glass plate negatives which are owned and conserved by the Scott Polar Research Institute in Cambridge and will be available for passengers to purchase on board, with 50% of the proceeds going to the Scott Polar Research Institute to contribute to its environmental research and heritage activities.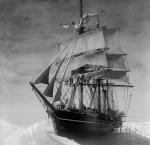 The Terra Nova held up in the pack. Decemeber 13th 1910.
Herbert Ponting was one of the most celebrated photographers of the 20th century and the images he captured in Antarctica are some of the most famous, beautiful and compelling visual records of the history of exploration, documenting all aspects of Scott's expedition including photographs of the men, their ship (the Terra Nova), daily life in the hut they built at Cape Evans, the scientific research, wildlife and the frozen landscapes of Ross Island.
"All of us at One Ocean Expeditions are delighted to have the opportunity to exhibit the historic and iconic photographs taken by Herbert Ponting of Captain Scott's British Antarctic Expedition 1910 - 1913. We have developed an exciting new partnership with the Scott Polar Research Institute and Salto-Ulbeek publishers to deliver the exhibition, and we can't wait for the exhibition to open and for our passengers to view, enjoy and be inspired by these amazing images." - Andrew Prossin, Managing Director of One Ocean Expeditions.