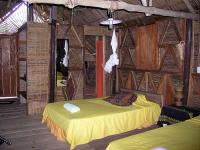 Uaguinega Lodge (formerly Dolphin Lodge)
Location
San Blas Islands (San Blas and the South-east, Panama)
Description
Set on the island of Uaguitupu, reached by canoe from the nearest airstrip at Achutupu. There are 12 simple cabins around a large grass area (with volleyball net!). The main communal area, where there is a bar and meals are eaten, is a wooden building with traditional thatched roof. There is plenty of space to relax outside but no beach.
Capacity
24
Activities
Visiting a Kuna Indian village, snorkelling, relaxing.
Accommodation
All cabins are simple with twin beds. Some cabins have an outdoor terrace with hammocks. All have ensuite facilities with shower and cold water.
Our comments
Simple accommodation but a chance to meet and try and understand the Kuna Indians