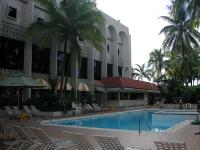 Sheraton Panama City
Location
City centre (Panama City, Panama)
Description
A large, traditional hotel (formerly the Caesar Park Hotel) with good facilities on the edge of town, opposite the Convention Centre and the closest hotel to the airport. There is a lovely swimming pool area with sunloungers, and tropical birds in cages and turtles in the rockpools in the garden. The hotel has four restaurants and a lively casino.
Accommodation
Rooms are comfortable enough but not 5-star.
Our comments
It is fine if attending a conference but there are better options in the city.