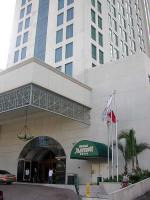 Marriott Hotel
Location
City centre (Panama City, Panama)
Description
A smart and comfortable hotel in the commercial and banking area, with easy access to all parts of the city. There is a nice pool on the fourth floor with views of the surrounding roof-tops. The hotel has three restaurants and a gym.
Accommodation
Comfortable rooms with all the amenities you would expect in a Marriott.
Our comments
The best traditional 5-star option in the city.