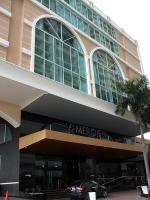 Le Meridien
Location
City centre (Panama City, Panama)
Description
A very stylish hotel opposite the bay in the heart of the city, ideally placed for exploring nearby bars and restaurants in Calle Uruguay.
Accommodation
There are 111 rooms, some of which are in an executive section with access to private dining area, bar, atrium and terrace.
Our comments
Beautiful lobby bar and restaurant, very funky ambience!