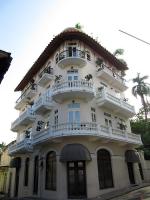 Las Clementinas
Location
Casco Viejo (Panama City, Panama)
Description
A beautiful building in the Casco Viejo built in the 1930s by Doña Clementina Jaen. There is a small garden with wooden decking and banana trees and a stunning rooftop patio offering panoramic views of both the old town and the modern Panama City skyline.
Accommodation
All six rooms have the same layout but are unique in design, with a large living area and a kitchen, separate bedroom and large bathroom. Every room has multiple balconies, iPod dock, flat screen television, safe and free wifi.
Our comments
Their concierge service is excellent and an electric golf limousine is available for guests in the evening. There is a good jazz-themed bar and restaurant which is invariable packed out on Friday and Saturday nights.
Client comments and reviews
Las Clementinas was very good, we had a room on the 1st floor which is best. As there is no lift it is a long way up if you are on the 3rd! Room is excellent, massive sitting area, charming bedroom and small bathroom. Their restaurant was excellent too. - MF (December 2013)