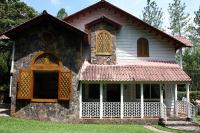 Park Eden
Location
El Valle (El Valle, Panama)
Description
A family run small hotel, just outside town. The gardens are beautiful and great for bird-watchers or perfect to relax in. The main house feels like a home from home. Dinner can be organised with notice, or there are restaurants nearby.
Activities
Birdwatching, hiking, mountain bikes, horseriding, zipwire and the famous Sunday market.
Accommodation
There are 8 rooms, all with mini-kitchen and airconditioning, set around the gardens in cabins. The honeymoon suite is small, but has the most character.