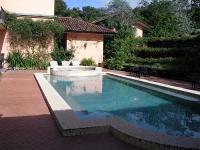 Los Mandarinos
Location
El Valle (El Valle, Panama)
Description
A 20 minute walk from town. The main house is built in the style of a Tuscan villa and has an excellent restaurant, lovely gardens and a small outdoor pool. There is also a spa.
Activities
Birdwatching, relaxing, walking, zipwire, waterfalls, market on Sunday
Accommodation
16 rooms, set in 2 blocks in the gardens. All are spacious and beautifully furnished with good amenities, some have balconies and there are some suites.