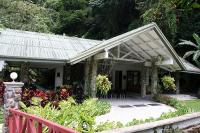 Canopy Lodge
Location
El Valle (El Valle, Panama)
Description
A comfortable lodge on the outskirts of town with birdwatching tours included and all meals. There are lovely gardens to relax in and from where to spot many bird species. (Note there is a minimum stay of 3 nights).
Activities
Birdwatching tours are included during your stay and in the area it is also possible to go hiking, mountain biking, horseriding, zipwire and the famous Sunday market.
Accommodation
12 large rooms nicely and simply decorated and with simple bathrooms
Our comments
The best place to stay for keen birders and a very comfortable base.