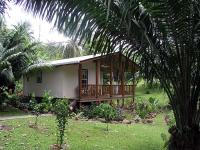 Tranquilo Bay
Location
Isla Bastimentos (Bocas del Toro, Panama)
Description
A small, personal American-owned/run lodge set above the sea in the National Park. A good mix of jungle and sea activities are included in the price along with all meals and drinks. The main building has the restaurant, bar and terrace with lovely views, the tropical gardens attract much birdlife and there is safe swimming from the dock.
Activities
A choice of activities are offered including jungle walks, kayaking, beach trips, fishing (at additional cost) and visits to local villages (eg Ngobe Salt Creek).
Accommodation
6 stylish wooden cabins set around grounds, which are very spread out for maximum privacy. Each has a verandah with hammock, air-conditioning and a private bathroom.
Our comments
A good choice if clients want to be remote and have excursions organised or for families.
When to go
All year round, Rainy season from June to October (although the area is not affected by hurricanes).
Client comments and reviews
We *loved* Tranquilo Bay. Definitely one of the highlights. Jim, Renee and Jay were lovely and we really enjoyed our adventures with Ramon. - E&CU (July 2010)
What a place. Lovely people, lovely food, knowledgeable guides, lovely friendly staff, lovely rooms, lovely airconditoning (!!) It was brilliant.  We didn't quite mange lovely weather but we had a lot of fun there with Natalia (their resident guide of the moment).  She has a degree in Zoology and is a wonderful birdwatcher and a lot of fun. The last day we finally got good weather and we went out to Zapatilla Cay with the new guests that had arrived that day and we enjoyed the best snorkelling I have ever done. We were sorry to leave Tranquilo Bay. We would love to go back. We will have to save up and go back to Panama to do some of the stuff we didn't do and return to Tranquilo Bay. - S&MH (February 2010)