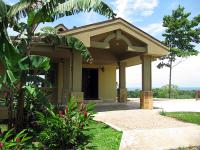 Red Frog Beach
Location
Isla Bastimentos (Bocas del Toro, Panama)
Description
A selection of beautifully designed villas on the coast of Isla Bastimentos, adjacent to rainforest and just a short walk from Turtle beach. There are two restaurants, a spa and an activities centre where you can arrange zip-lining tours, snorkelling, diving and surf lessons. The island can only be reached by boat, there are small native villages and no cars!
Activities
Snorkelling, surfing, rainforest walks, zipline, spa, underground cave tour, sunset boat cruise. Turtles also nest in season and red frogs are endemic.
Accommodation
29 villas ranging from 1-4 bedrooms with kitchen, bathroom and living area. The concierge service can arrange for staff to collect shopping from Bocas if you want to cook.
Our comments
Perfect for families or small groups.