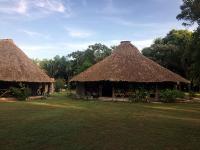 Rewa Ecolodge
Location
Rewa village, north Rupununi (The Rupununi savannas, Guianas)
Description
This very simple lodge is a great base to experience some virgin forest and spot wildlife. The area was where the BBC programme Lost Land of the Jaguar was filmed in 2008 and is accessed by 2-3 hour boat ride from near Annai.
Activities
The usual forest trails and boat trips. Hike Awarmie Mountain for stunning views and visit Grass Pond which is filled with Victoria Amazonica waterlily and Arapaima fish. There is also Seawall where giant river turtles lay their eggs on the sand banks. It is also possible to visit the village and school.
Accommodation
Rooms are as you would expect in the rainforest but are adequate with mosquito nets. There are four rooms with shared bathrooms and three cabins with private bathrooms.
Our comments
Very simple but comfortable enough and lots of mosquitoes so take plenty of repellent!