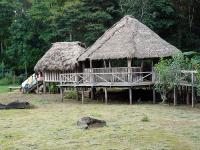 Maipaima Ecolodge
Location
Nappi village, Kanuku Mountains (The Rupununi savannas, Guianas)
Description
This lodge has suspended tourist operations (2017).
Maipaima is 8km from Nappi village and reached by 4x4 on a narrow dirt track through the forest, which can be subject to delays! Set next to a small creek (which can flood) the lodge is built on stilts and on the site of an old farm. Hummingbirds are a frequent sight around Maipaima.
Activities
There is a bat cave to visit plus a cock of the rock lek. There are also some walking trails through the forest to spot wildlife but the main attraction is a hike to Jordan Falls which takes around 4 hours and where you can overnight in hammocks if you want to.
Accommodation
Each room has a private bathroom and beds are covered with mosquito nets. Very simple but comfortable enough.
Our comments
Excellent guides and food! The hike to Jordan Falls is tough in the heat but worth it.