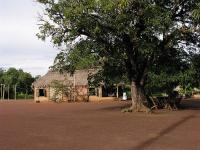 Karanambu
Location
2 hours south of Annai by boat (The Rupununi savannas, Guianas)
Description
The 125 square miles of Karanambu was the home of late Diane McTurk, who is well known for her success in re-habilitating giant river otters into the wild. The McTurk family have long welcomed visiting naturalists - Diane's father Tiny was visited by Gerald Durrell and David Attenborough in the 1950s, when Guyana was more on the nature 'map'.
Activities
Most excursions from the ranch during the wet season are by boat - perhaps to a nesting site, or to see the Victoria Amazonia lilies, the largest in the world. During the dry season there is also the possibility of seeing the giant anteater.
Accommodation
The rooms are built of home-baked bricks and are thatched with palm. There are 4 individual cabins and the other rooms are in one building, all with their own bathroom (cold water only, bottled water provided). Plumbing and electric wiring is rudimentary, but the beds are comfortable and well netted.
Our comments
A unique experience. There are currently no giant river otters at the ranch but there are good chances of seeing them nearby.
Client comments and reviews
Karanambu is one of the best places I have ever stayed in. I am fairly well travelled but I think that Karanambu joins the Explora Hotel in Patagonia and Abu Camp in Botswana to be in my top three. It was absolutely enchanting. It's quite difficult to describe what is so good about it, but Diane and her side-kick Pat certainly make wonderful hosts. I will treasure memories of Diane serving food at the table, fishing with Pat, drinking rum punch, tackling a semi-tame racoon, playing with a neotropical otter, boat trips, sitting on a boat for two hours watching an Amazonian water lily flower open, finding giant anteaters ... the list just goes on. Definitely a place to which I long to return. - ML (February 2009)
Our time at Karanambu really stood out. We were welcomed and treated as one of the family. Diane is larger than life, and even, so far from civilisation, serves coffee in demi-tasse. Excursions were well-organised and the Amerindian guides were so pleasant and extremely knowledgable. Had we been younger, we might even have considered a return visit. - PC (April 2008)
Found Karanambu absolutely wonderful and Diane is a wonderful lady. The one remaining Otter, Saffo, was not around while we were there but we did see 'wild' otters on 2 occasions (6 in all). Bird watching was excellent, as was the wildlife (monkeys/snakes etc) and excursions were well timed - ie before and after breakfast followed by lunch and a siesta before going out for late afternoon/early evening trips. Trip to see the waterlilies was exceptional. - DH (February 2006)