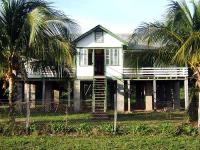 Dadanawa
Location
Dadanawa (The Rupununi savannas, Guianas)
Description
Dadanawa, 4-7 hours south of Lethem in the southern Rupununi close to the Brazilian border, covers around 1,700 square miles and was once the largest ranch in South America. With the demise of cattle as a viable business proposition, the Defreitas family have opened up their doors to tourism and offer a trational farm experience. Duane has also gained a reputation for leading adventurous river trips into untouched tracts of jungle.
Activities
There are number of on-site activities ranging from helping the cowboys at the corrals (including possible lassoing lessons!) to walking, riding, canoing and visits to the nearby caves and foothills. There is excellent birding in the area, including one of the few nesting sites of the Red Siskin, as well as a number of enigmatic petroglyphs whose origins remain unknown. For the more adventurous, the ranch manager and his team now run 2-3 week adventure trips into the pristine forests and rivers of the Kanuku mountains. They usually know where a Harpy eagle is nesting, and few trips go by without a jaguar sighting.
Accommodation
The traditional stilt guest house has two bedrooms and a verandah with wonderful views over the farm. There is other more basic accommodation available and rough camping if going on excursions.
Our comments
Very warm hospitality, lots of rum and fantastic meat as you would expect from a South American ranch!
When to go
Adventure trips, camping along remote river banks, are best in the dry season from October to December, and you would need to allow about 2 weeks. Shorter stays are possible at any time of year, with a realistic minimum being 3 nights at the main ranch.<s