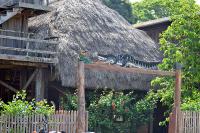 Caiman House
Location
Yupukari (The Rupununi savannas, Guianas)
Description
The small lodge is the centre for several development projects including the introduction of classroom libraries and an internet-enabled public library. The main house has a nice open communal area with seating downstairs, hammocks and a small roof terrace with views over the village. It has a warm friendly atmosphere and combines well with a stay at Karanambu ranch.
Activities
Evening boat excursions to learn about the Black Caiman project and experience seeing the reptiles being caught, measured, weighed, sexed and tagged with a chip. The information is all carefully logged and used for research to help with their protection. Other activities include bird watching, river trips and visits into the local village to meet the children and local craftspeople.
Accommodation
The main house has 4 spacious rooms, all with private bathroom (cold water only) and screened windows. The honeymoon suite is in a separate building on 2 levels and offers wonderful views but has a smaller bedroom and a private bathroom below, which is accessed by outside steps.
Our comments
An interesting addition to a trip to Guyana.