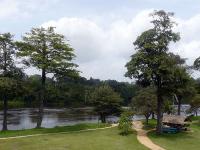 Palumeu Lodge
Location
Palumeu (Central Reserve and the southern mountains, Guianas)
Description
A well run small Amerindian lodge in a tranquil setting on the banks of the River Tapanahoni with a manicured garden. The lodge has a communal eating area (with homely cooked traditional food)and bar with several hammocks.
Activities
Kayaking, visiting a local village, visiting a local school, visit Palawa Island, float in the river, swim in the rapids, walk up Poti Hill
Accommodation
Rooms are in simple but tidy semi-detached wooden cabins with a private shower. The shared terrace is a lovely spot to watch the sunset and feeding bats with the glow of an oil lantern.
Our comments
Only Dutch or Sranan Tongo spoken.