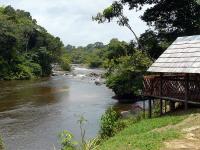 Awarradam Lodge
Location
Awarradam (Central Reserve and the southern mountains, Guianas)
Description
A small lodge set on a peaceful island, with a bar, communal dining area and hammocks in which to relax. The staff are all from the local Maroon village and are so friendly, their warm welcome is unforgettable.
Activities
Kayaking, swimming in the Peti rapids, or visiting the Maroon village of Kayana. You can walk in the bush and look out for birds and wildlife in the surrounding jungle.

Accommodation
Simple, clean, detached cabins each with a private shower, terrace and hammocks. Most have a river view.
Our comments
Unique and very special. The cultural interchange is fascinating and you will sometimes be met with singing and dancing.