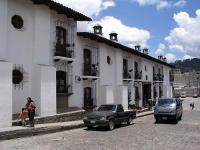 Hotel Santo Tomas
Location
Chichicastenango (Chichicastenango, Quetzaltenango and Cuchamantanes, Guatemala)
Description
A comfortable hotel in an enviable position with a lovely courtyard area. There is a pool and good restaurant. The market area starts as you descend the steps of the hotel.
Activities
Watch the locals set up for the market in the early morning before the crowds arrive.
Accommodation
Around 40 comfortable rooms, all decorated with traditional textiles.
Our comments
The best option in town.