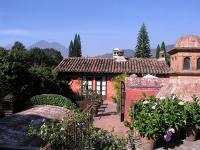 Posada del Angel
Location
Antigua (Antigua and Guatemala City, Guatemala)
Description
A small inn which oozes style and good taste. 4 blocks from the main square. Family atmosphere and guests are provided with a list of things to do in the area. Breakfast only, drinks extra, but many good restaurants within walking distance.
Activities
All of colonial Antigua is there to explore as soon as you step out onto the pretty cobbled streets. There are fine shops, museums, a main square and cathedral, and many churches and convents in varying states of repair from the colonial era before Antigua was almost entirely destroyed by the 1773 earthquake. A trip to the top of Volcán Pacaya is very worthwhile if you are reasonably fit.
Accommodation
5 beautifully and individually decorated rooms in an old colonial town house, each with own bathroom, TV and fireplace. One is a suite, upstairs, where there is also a small pool, but all have character and lovely touches. Sitting area in semi-covered courtyard with lap pool, dining room (breakfasts only), and further sitting area (with CD player etc. at the far end of the building.
Our comments
Owned by Mary Sue Morris, who moved here from the US in the mid-nineties and has created a small inn which oozes style and good taste. She provides all guests with a comprehensive and frequently updated guide to things to see and do in the area.
When to go
All year. Clearest air (for those volcano views) September to December.
Client comments and reviews
Posada del Angel was lovely, a perfect mix of traditional and boutique hotel feel.  Our perfect sort of place. The bed was frankly the comfiest we have ever slept on, the sheets etc were incredible! - RP (July 2011)