Guayaquil, Pacific coast beaches and Machalilla National Park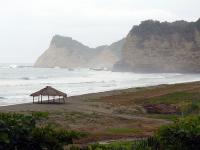 Ecuador has a 2000km coastline, the southern part of which is justifiably famous for its seafood and has the country's best beaches, including some fabulous stretches along the Ruta del Sol (Route of the Sun). There are several resorts along Ecuador's rugged Pacific coast, most notably around Puerto López where boats depart for the beautiful Machalilla National Park and the Isla de la Plata. Weather can be unreliable particularly in the rainy season from January to March and there is often mist (garúa) in the mornings.
Guayaquil is Ecuador's largest city, the main port, and the commercial hub of the country. Sympathetically-restored areas such as the old district of Las Peñas and the riverfront malecón (promenade) add to the character of the city.
Our preferred accommodation
City hotel - Guayaquil

A large modern, business hotel with an outdoor pool, spa and well-equipped gym. Rooms are comfortable and spacious, providing a good night's rest before or after a trip to the Galapagos.

City hotel - Guayaquil

Once a hospice, this beautifully-designed luxury boutique hotel is set within one of Guayaquil's historic parks. It is an oasis of calm within the city, just 15 minutes from Guayaquil airport (traffic permitting) and a short taxi ride from the city centre. There are two internal garden courtyards, a chapel, spa, gym and lounge. Its restaurant, Casa Julián, is across the road and on the riverfront.

City hotel - Guayaquil

A small boutique hotel in the vibrant, artistic neighbourhood of Las Peñas at the northern end of the malecón.