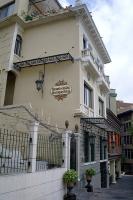 Mansion del Rio
Location
Guayaquil (The Coast, Ecuador)
Description
A small boutique hotel in the vibrant, artistic neighbourhood of Las Peñas at the northern end of the malecón.
Activities
It is worth having a walk around the neighbourhood of Las Peñas, where there are some small artisan stalls and museums. The malecón has some lovely gardens.
Accommodation
There are 11 rooms, each with antique European styling, some of which have views of the River Guayas, which flows through the city.
Our comments
The main floor of the hotel has a small breakfast area and lounge where numerous antiques are on display. There is a rooftop terrace/bar where guests can enjoy a drink. There are many flights of stairs to be climbed but no lift available.
Client comments and reviews
Hotel in Guayaquil is where Sir Frederick Ashton was born! Do try to arrange for guests to be in Rooms 1 and 2 - by far the best. It was quirky but Abel gave us a tour and told us how he had renovated it. - TS (January 2015)