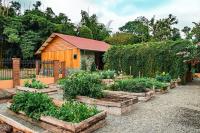 Hacienda La Danesa
Location
Naranjito, 80km from Guayaquil (The Coast, Ecuador)
Description
A charming hacienda and traditional dairy farm in Ecuador's Guayas province, 80km from Guayaquil and close to the small town of Naranjito. The 500 hectare estate is surrounded by fruit plantations, forests and rivers and is steeped in history. They produce milk (2,000 litres per day) and fresh cheese, have a teak plantation, and breed pinto (coloured) Quarter Horses.
Activities
Cacao plantation tours, lazy river tubing, riding, cooking classes and biking.
Accommodation
Guest rooms are stylishly decorated with authentic furniture and local artwork.
Client comments and reviews
A wonderful family run hacienda with lovely, friendly staff. All of the activities are interesting and I would especially recommend the bee-keeping and chocolate making. All the food is delicious and I was very well looked after throughout my stay. I only had two nights and would have loved a third! - ED (September 2019)