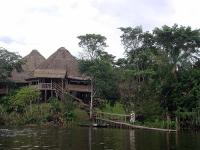 La Selva Lodge
Location
Amazon (The Amazon, Ecuador)
Description
2 hours downstream of Coca on the north side of the Rio Napo, overlooking a lake in a mixture of primary and secondary forest. It sustains a private butterfly farm, biology field station and 135-foot observation tower. There is a bar, dining room and reading room.
Activities
Wildlife tours, night walks, bird tower and canoeing.
Accommodation
The thatched cabins, some of which have views over Lake Garzacocha, were built using natural materials. They are connected by walkways, and all have mosquito nets over the beds and ceiling fans. Limited hot water and electricity.
Our comments
Ideal for bird watchers and holds a World Congress on Tourism & The Environment Ecotourism Award.
Client comments and reviews
La Selva was great. The humidity and heat were tolerable for us gringos. The walks through the rainforest were excellent. Guides and local helpers were very knowledgeable. Bird life was prolific - a birder's paradise. - RC (August 2008)
We enjoyed the jungle lodge very much, although with more comfort than anticipated, however this made for a very relaxing time and the perfect way to switch off from the outside world. - HL (July 2007)
The experience of la Selva was great in every way. The accommodation was fine for the jungle environment, and the food was excellent. We had pretty good luck with the wildlife, and the visit to a local indigenous family was also fascinating. - JM (September 2007)
We also thoroughly enjoyed the stay at La Selva jungle lodge.  It was wonderfully remote and "back to being at one with nature"; the rain was just "right"; it felt like a rainforest should without disrupting the schedule of our hikes or reducing visibility too much, and we saw lots of birds, insects (fortunately none at all in our cabin) and amphibians. - SD (April 2007)