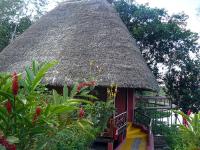 Napo Wildlife Centre
Location
Amazon (The Amazon, Ecuador)
Description
In Yasuní National Park, 2 hours by boat and 1 hour by canoe from Coca, Napo is set in an 82 square mile nature reserve. It is the only lodge on the relatively undisturbed south bank of the Napo river, where there is a particularly high concentration of bird and animal species. The lodge is based on a conservation partnership with the local community. The dining room overlooks the lake, there is a library, a bar and a 50-foot observation tower, from which you can see the Andes on a clear day.
Activities
All meals and daily excursions with the bilingual guides are included. Activities include fishing, forest hikes, excursions in dugout canoes around the lake, visits to the clay licks and visits to the local communities.
Accommodation
Spacious netted bungalows with verandas and a ceiling fan overlooking a lake.
Our comments
A gem in the Ecuadorian Amazon. The rooms are very comfortable, guides knowledgeable and the area is rich in wildlife. A top jungle experience and a successful eco-tourism project, the lodge is run by the local Añangu indigenous community.
Client comments and reviews
Napo was Brilliant. 3 nights is probably about right, but it's a wonderful place and a superb demonstration of what can be achieved by indigenous communities with the right leadership. All animal-sighting boxes ticked, including 2 and 3-toed sloths and a giant otter family. - RS, January 2017
The visit to the Napo Wildlife Centre was a fantastic experience. - IM, May 2016
During our fascinating stay at Napo we decided against the walk to visit the second parrot lick (on the advice of our guide) as the rain was pouring down. Instead, we asked if we might visit the local school. This was welcomed and arranged and proved to be delightful. - SB, February 2016
Amazon - a dream come true and I definitely recommend staying at Napo - a must to be right in the jungle. - TS, January 2015
Napo Wildlife Centre - lovely place and we enjoyed the transfer by canoe. We were very glad we were there and not at any other lodge. Very friendly staff and we had a very knowledgeable guide who was very enthusiastic. 3 nights seemed about the right length of time. Any shorter it would have been too far to go. - JF, January 2015
Napo was a dream come true, the highlight was watching eight giant river otters catching, eating and sharing fish they caught in front of us. - RN, January 2014
Napo was outstanding in every way - the guides, staff, activities, rooms, food (and wildlife). And we loved that it's community-run and that we were able to play even a small part in helping to support the local Kichwa community. It had such a great atmosphere. Our guides, Edwin and Meliton, were wonderful, and our group of 8 had a lot of fun spending time together at meals and on the activities. - NC
Napo Wildlife Centre:- thank goodness we got into that. Wouldn't have missed it for anything. A wonderful project and well worth the difficulties of getting there - the creeks were dry in places, so we had to trek the final hour and a half. That was fine but they had difficulty getting the luggage through at times, felt very sorry for them! - JW
Napo was for me the most memorable place in Ecuador. Our guides contributed greatly to insights into the world of the rainforest, from finding a tiny poison dart frog to keeping us patient at the parrot-lick hide. The long wait was rewarded by an amazing display of parrots in feeding frenzy. - DH, December 2009
Exceedingly good. The Lodge, the activities and  the staff were first class. Our guide was excellent. - CL, February 2009
The trip to Napo was great - even if we did have to abort our flight to Coca due to the weather and arrived at the lodge in the dark! It has a wonderful location and is very well run. - CH, March 2009
We arrived in a dreadful downpour at Napo but we were delighted with our stay and our guides were quite excellent. - MM, February 2009
The Amazon was magical. The Napo Wildlife Centre was very good, the food was excellent and we were only 3 guests for the 3 nights we were there which made it very personal. - MR, December 2008
Napo was great....the lodge is far away from civilization and definitely worth the extra time it took to get there. We were lucky as we were one of the few people to see the giant otters (along with an anaconda, a boa, a sloth, six types of monkey plus a zillion birds). - AT, March 2008
Napo was wonderful and we were really lucky to see giant otters, monkeys, parrots etc as well as all the birdlife. - JL September 2007
The staff here are very friendly and the food is fantastic. To stay here is a great experience and a good way of giving something back to the community. - RB September 2006
The rainforest was fantastic. What a place! We had 2 guides one Spanish/English speaking and very passionate and knowledgeable, and a local man from the community who spoke Spanish. Accommodation and food excellent and animal/bird variety excellent. What a beautiful spot. - AH August 2006
The Napo Valley Wildlife Centre was our favourite part of the holiday, its location, the activities, the staff & naturalists brought the area to life for us. - LH February 2006
Napo Wildlife Centre was great. We had the place virtually to ourselves and our two guides were excellent. The area is genuinely remote with beautiful primary rainforest and the birdlife was superb. The lodge itself was very comfortable, overlooking a lagoon with very attentive and friendly staff. Highly recommended, but 3 nights not nearly long enough! - EB March 2005