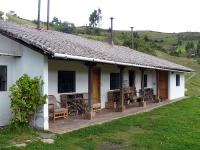 Black Sheep Inn
Location
Chugchilán (Cotopaxi and Papallacta, Ecuador)
Description
A pretty inn with a cosy kitchen, sitting area and small library (book swap). Very helpful and friendly owners, full of local knowledge and information and with very ecological hearts. Amazing views across the plateau and in a very peaceful spot.
Activities
Stunning hiking (especially to the Quilotoa Crater Lake), zipline, riding and mountain biking.
Accommodation
Comfortable, clean rooms with a cosy wood burner. Private facilities all with composting toilets.
Client comments and reviews
The Black Sheep Inn was fantastic and was the highlight of mainland Ecuador for us. We had one of the three rooms which felt like it was half a mountain above the main hotel. Stunning views - and lighting the fire for an hour in the evening was more than enough to make the bedroom warm. We walked every day and Andres and Michelle made us welcome. We liked their style and also what they were accomplishing within the community. The walk from Quilotoa to Chugchilan had several stars wow factor, and all our trips at the Black Sheep were excellent. - SH