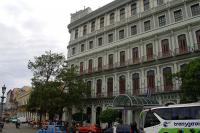 Saratoga
Location
Old Havana (Havana, Cuba)
Description
The Saratoga is a beautifully renovated colonial building with a stylish interior. It has a lovely rooftop pool with great views of the city and there is a small gym.
Accommodation
There are 40 patio rooms which are slightly smaller and face the internal courtyard, 49 Saratoga rooms with views of the city and 2 large corner suites. All rooms have air conditioning, cable TV, minibar, wifi and well-equipped bathroom.
Our comments
A beautiful hotel with real attention to detail. A swim and mojito at the rooftop pool and bar is a great way to escape the humidity and take in the views of central Havana.
Client comments and reviews
The Saratoga was wonderful and the views from our room towards the Capitolo were some of the best we had in Cuba. The breakfast wasn't great, but the staff took really good care of us. - JE (November 2014)