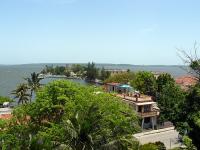 Cienfuegos is a 4 hour drive south-east of Havana arranged around a spectacular natural bay. Known as 'the pearl of the south' this world heritage city has beautiful French architecture influenced by colonists arriving from Louisiana in 1819. Santa Clara is the site of the final battle of the Revolution in December 1958 when 'Che' Guevara captured a troop train loaded with military supplies and US-backed dictator Batista fled the country. The Zapata Peninsula is a wildlife haven and Playa Girón on the east side of the Bay of Pigs has a small museum about the invasion in 1961.
Our preferred accommodation
City hotel - Cienfuegos

In a beautifully restored colonial building, in the centre of town. Lovely courtyard and good size pool.