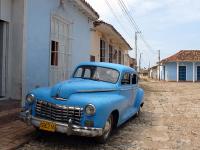 An hour's drive south of Cienfuegos is Trinidad, Cuba's third oldest settlement, a UNESCO World Heritage site with many cobbled streets and decaying palatial buildings built with profits from the sugar mills. Sugar plantations can still be seen by taking a lovely steam train through Valle de los Ingenios (Sugar mill valley). Playa Ancón, a beach resort 7 miles from Trinidad, is a popular base for tourists.
Our preferred accommodation
Private house - Trinidad

A wonderful, home-from-home on the outskirts of Trinidad, where Kenia and her family live. The entire farm is quirky, eclectic and full of character, so typically Cuban.

City hotel - Trinidad

A 5* colonial hotel in the centre of town. The lobby area is welcoming and there is a restaurant and bar.