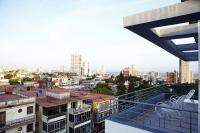 Penthouse Ydalgo
Location
Vedado (Havana, Cuba)
Description
An immaculate private penthouse apartment in an unassuming 1950s tower block in Havana's Vedado neighbourhood (also known as Artedel Luxury Penthouse).
Activities
Visit artists studios, have a salsa class, take an architectural tour or dine at one of the private local paladars (restaurants).
Accommodation
It has two bedrooms with their own bathrooms and one suite, which has a rolltop bath and two terraces. The main terrace offers marvellous views of Havana and the sea. There is a daily maid and breakfast service. The owner, Ydalgo, is a friendly and charming host and has an eye for Cuban contemporary furniture and objets d'art.
Client comments and reviews
We loved Ydalgo's place! It was made even better by the fact it was just two doors from the synagogue. - JE (November 2014)