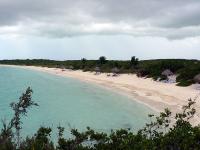 Villa Las Brujas
Location
Cayo Las Brujas (The Cayes, Cuba)
Description
A lovely small hotel next to a beautiful beach, separated by mangroves. The hotel is reached by a causeway from the mainland and there is only one hotel on this cayo. There is no pool but there is a jacuzzi.
Activities
Diving, snorkelling and jet skis are among the watersports which can be arranged locally.
Accommodation
24 air conditioned rooms each with a small balcony and private bathrooms.
Our comments
A good option for those wanting somewhere quiet and to get away from the larger all-inclusive resorts.
When to go
May and June are worst for mosquitos.
Client comments and reviews
Great location on the beach - it was fine for a couple of days - but I think you might go stir crazy if you stayed any longer. The accommodation was a little tired, but we had hot water and good air-conditioning. The one small restaurant was a little limiting, but the seafood was good. - JS (August 2009)