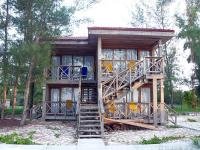 Cayo Levisa
Location
Cayo Levisa (The Cayes, Cuba)
Description
Temporarily closed September 2019
This small, simple hotel is the only lodging on this island. There is little to do but it is great for relaxing and enjoying the Cuban sun. The beach is long with plenty of sun loungers and umbrellas for shade, and the sea is warm.
Accommodation
33 simple but comfortable rooms each with air-conditioning and a small balcony. All rooms are staggered so everybody has a view to the sea.
When to go
May and June are the worst months for mosquitos.