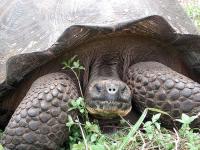 Santa Cruz has an incredible array of ecosystems so there is a lot to see including tidal lagoons, ponds, lava flows, cactus forests, cloud forests, beaches, mangroves and cliffs and it is home to varied wildlife and endemic species. Puerto Ayora, the island's administrative centre, is a bustling and lively town.
Visitor sites on this island include: Puerto Ayora - shops, hotels, guest houses and the Charles Darwin Research Station, with giant tortoises in captivity and interesting background information on the issues affecting the Galapagos. There are also several dive centres in the town. The Highlands - gives an insight into the life of the local human residents. The road across the island to the Baltra ferry passes through various vegetation zones and giant tortoises can often be seen in the wild (best October to May). Caleta Tortuga Negra - a mangrove-lined inlet on the northern coast offers an extraordinary tranquil view of turtles, rays and small sharks. Bachas Beach - a lovely beach with thick white sand and two small lagoons. Flamingos, great blue herons and sea lions.
Our preferred accommodation

means that the hotel is one of our Dream Destinations.
Beach hotel - Across the bay from Puerto Ayora

On the island of Santa Cruz, across the bay from the main town of Puerto Ayora, the hotel has its own private white sandy beach. There is a swimming pool and jacuzzi (overlooking the bay), bar and restaurant.

Lodge/Hosteria - Highlands, 25 km from Puerto Ayora

Nine luxurious safari-style tents with views over the Pacific and western and northern Galapagos islands. Infinity pool and fine restaurant in the central lodge. Altitude is 450m.

Inn/Posada - Puerto Ayora waterfront

Built on the edge of the blue sea in the grove of wild red mangrove. Simple but stylish rooms and a very relaxed atmosphere. There is a restaurant overlooking the ocean (sea lions may join you for breakfast!) It is just a short walk from the hotel to the Charles Darwin Research Station, the beach, or the town which offers a wide selection of restaurants and bars.