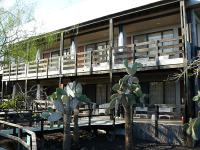 Finch Bay Hotel
Location
Across the bay from Puerto Ayora (Santa Cruz (Indefatigable), Galapagos)
Description
On the island of Santa Cruz, across the bay from the main town of Puerto Ayora and overlooking a white sand beach. There is a swimming pool, hot tub and bar facing the bay, a restaurant and a lounge.
Activities
Santa Cruz has an incredible array of ecosystems so there is lots to see, including tidal lagoons, ponds, lava flows, cactus forests, cloud forest, beaches and mangroves. There are various walks from the hotel; kayaks and mountain bikes can be hired; and day trips to outer islands, scuba diving, birdwatching and riding can all be organised.
Accommodation
There are 21 standard rooms and 6 suites, all of which have a terrace with hammocks. The suites have a sea view, whereas the standard rooms are set around a small lava flow garden.