White sand beaches and the barrier reef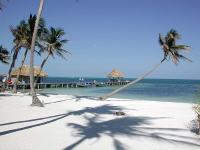 The Barrier Reef stretches from the southern tip of Mexico's Yucatan Peninsula in the north (where the Maya cut a narrow channel to facilitate their trading routes) 185 miles to the south. Cayes (pronounced 'keys') are small islands at varying distances from the actual reef and include Ambergris, South Water, Tobacco, Caulker and Espanto.
Some (such as Ambergris) are inhabited and have lively villages, while others are much smaller. Three atolls (Lighthouse, Glovers and Turneffe) just outside the reef are the main attraction for divers, one of which includes the famous Blue Hole, a circular sinkhole formed in the last Ice Age. The crystal clear waters are a paradise for snorkelers and fishermen, and many parts of the reef are protected, such as the Hol Chan Marine Park where it is easy to see nurse sharks and manta rays.
Even if you are not staying on a caye, access from the mainland is easy by fast boat, with the closest points being Belize City, Dangriga and Placencia. It is also possible to charter a yacht to sail between cayes.
Our preferred accommodation

means that the hotel is one of our Dream Destinations.