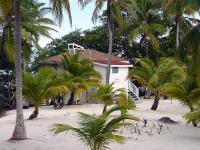 Pelican's Pouch Hotel
Location
South Water Caye (The Cayes, Belize)
Description
The caye is reached by boat (40 minutes) from Dangriga and is the perfect place to relax! There are plenty of hammocks and a lovely beach from where you can snorkel.
Activities
Activities include snorkelling, kayaking and diving.
Accommodation
Accommodation is rustic and comfortable - solar energy, gravity fed showers and composting toilets are used to preserve this pristine environment. Rooms are Belizean style wooden cottages, two of which are 1-bedroom cottages each with a private verandah (Heron's Hideaway and Kingfisher).
Our comments
A fantastic base for those looking to get away from it all. Simple and extremely laid back.
Client comments and reviews
Pelicans Pouch was absolutely amazing. Superlatives don't do it justice. Staff attentive, welcoming and so friendly. Food excellent. Kingfisher Cottage was the best. Views on both sides and after a grey first afternoon we had two stunning blue sea and sky days. Good snorkelling, good kayaking and I even managed a hammock. I thought I might get bored, but I reckon I could have managed another day there. It is squarely on our return hit list. - SH (February 2011)
Each hotel was fab in different ways - we were lucky to have Pelican's Pouch totally to ourselves so it felt like we were on our own desert island, and the weather was fantastic too! - RS&MP (May 2008)
The island is only 15 acres,and the resort covers 3 of these. Beautiful white sand and palm trees, picture postcard stuff. Our house was on stilts, open on all sides with a lovely breeze blowing through. Fantastic views over the sea, gorgeous sunsets,cloudless skies when we arrived, clear turquoise sea. The food was lovely - no choice but we had no problem with that. The staff were wonderful,we got on very well with them, they could do not do enough for us. There was only one other couple there, it was like our own paradise. - RH (March 2008)
Southwater Caye - absolutely adored it and may even go back!
- AN (April 2007)