The highlands and Caribbean islands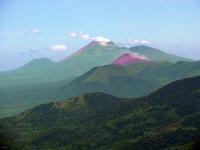 The mountainous central region is covered with oak and pine forests, and coffee plantations. The Atlantic coast is prone to heavy rain and fearsome mosquitos (Moskitia was never colonised by the Spanish) and the major industries are gold mining, fishing and timber. 70km off the Caribbean coast, the lovely Corn Islands are renowned for their pristine white beaches and undisturbed coral reefs.
Our preferred accommodation
Beach hotel - a 1½ hour boat ride from Bluefields

A luxury beachfront property on a 10 acre private island off the Caribbean coast of Nicaragua. Access is by a flight from Managua to Bluefields, followed by a 1½ hour boat journey to the island.

Beach hotel - Little Corn Island

A lovely beachfront property on quiet Little Corn Island where the only way to get around is on foot or by sailboat. You reach the island by small boat from neighbouring Big Corn Island (accessed by flights from Managua).