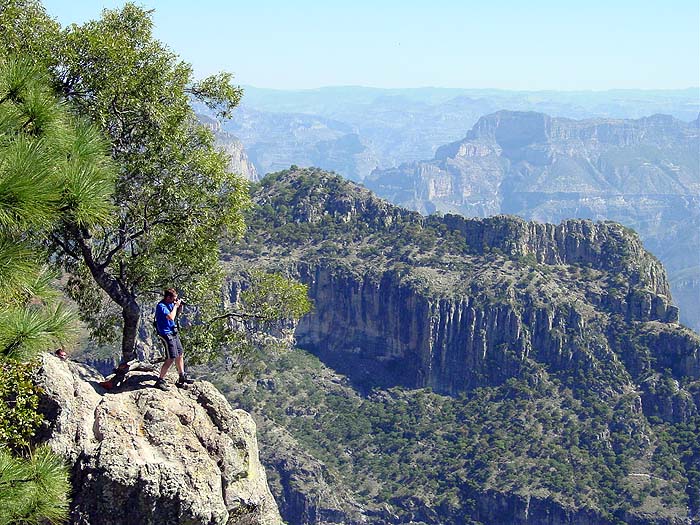 Western Mexico
the less-visited west boasts beautiful scenery, whale-watching and an epic railroad
A 12 day tour taking in the dramatic scenery of western Mexico's Copper Canyon, whales in the Sea of Cortez, and wild Pacific coast.
To enquire about this itinerary, or one like it, please email us or click the Enquire button.
Itinerary summary
Mexico City
Days 1-2: Start in Mexico City, founded by the Aztecs and then overthrown by Hernán Cortés. Free time to explore the city's fascinating museums, colonial buildings and stunning murals by some of the world's most celebrated artists. It is also possible to organise a visit to the vast Aztec site of Teotihuacán.
The Copper Canyon
Days 3-7: Fly west to Los Mochis, and on by road to the sleepy colonial town of El Fuerte. After a night here you will take a 1st class carriage on the Chihuahua-Pacífico railroad (known as 'El Chepe') towards Chihuahua. Disembark at Bahuichivo (4 hours, 170km), at the top of the Copper Canyon for a night overlooking the stunning canyon country. Continue to Creel for 2 nights before returning by train to Los Mochis for a final night. Guided excursions are included, visiting waterfalls, viewpoints and unusual rock formations.
Baja California: whales and beaches
Days 8: Fly to Ciudad Constitución on the Baja California peninsula and spend a night on the Pacific coast at Magdalena Bay, where grey whales come to have their calves. Take a whale-watching tour the following day before heading to La Paz on the Sea of Cortés.
Days 9-11: Spend a night in La Paz before heading to the wonderful island of Espiritu Santo, a haven for wildlife and the sea teeming with fish. Spend the days kayaking, snorkelling, hiking and birdwatching and at night sleep under the stars in glamping tents with real beds.
Day 12: Return to La Paz and fly to Mexico City, where you will almost certainly need a night before onward connections.
Go further
You could extend this trip with a visit to the famous Los Cabos area, at the southern tip of the peninsula and known for its luxury clifftop hotels. Alternatively you could stay in one of the many 5 star beach hotels on the exclusive and remote Pacific coast.
Notes:
Whale-watching is best between January and April when grey whales gather in their breeding lagoons and the camp on Espiritu Santo is open between November and April.
Accommodation options
In the following section you will see our suggested options for possible accommodation.
The estimated flight cost included in this itinerary (assuming international flights from the UK plus any internal flights that are necessary) is ú1,190 per person.
Price and validity notes
We have tried to give you as accurate an idea of prices as possible, including meals where appropriate (but not when there are good local options so you don't pay for a meal that you might not want), accommodation, transfers, and any tours we have included.
All prices are per person based on two people sharing a room and are intended as a guide (local high or low seasons can cause some variation). All prices were correct when published but may vary with exchange rate fluctuations, fuel surcharges, or changes in the general economic situation.