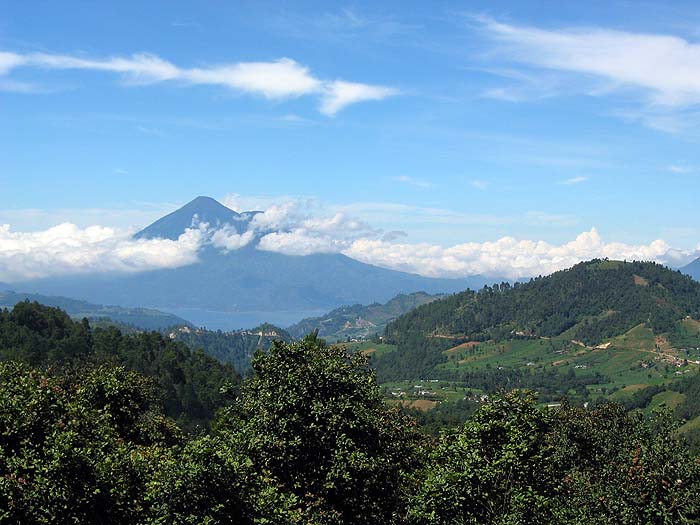 Classic Guatemala
volcano-shrouded colonial cities, fascinating, authentic local markets, and ancient Maya ruins
This 9 day itinerary is the perfect introduction to Guatemala, with stunning volcanic scenery and jungle-shrouded Maya ruins.
To enquire about this itinerary, or one like it, please email us or click the Enquire button.
Itinerary summary
Colonial Antigua
Days 1-3: Driven directly to Antigua (just 45 minutes from Guatemala City airport), for three nights. This is a beautiful colonial city whose cobbled streets and pretty squares can easily be explored on foot. A walk to the top of nearby Pacaya volcano is very worthwhile, as long as you are reasonably fit. You could visit a local coffee plantation, we highly recommend tours run through the NGO De la Gente.
Lake Atitlán: volcanos and markets
Days 4-6: A couple of hours' drive north of Antigua is magical Lake Atitlán, a volcanic crater formed when an ancient volcano collapsed, leaving a lake 17 kilometres in diameter, now surrounded by a ring of three smaller volcanoes. With three nights you will have time to visit some of the lakeside villages, each named after a different apostle and with distinct traditions and dress. You will also visit the famous market at Chichicastenango, with its exotic fabrics, rituals, and smells.
Tikal and Yaxhá: Maya temples
Days 7-9: Return to Guatemala City for an evening flight to Flores and two nights in the Petén, Guatemala's northern jungle. Home to numerous Maya ruins, the most famous of which is Tikal, most of whose buildings are enfolded in tropical forest and today only inhabited by wildlife (including howler monkeys, parrots and macaws). The entire site covers over 200 square miles, a green carpet stretching as far as the eye can see, interrupted only by a handful of temples rising majestically from the rainforest floor.
You will also have time to visit the lesser-known site of Yaxhá, for wonderful sunset views across the forest canopy, before flying back to Guatemala City for onward connections.
Go further
It is easy to cross by land from Flores to Mexico or Belize. From the south, a border crossing into Honduras to see the impressive Maya site of Copán is a worthwhile trip. This can also be combined with a visit to the Guatemalan site of Quiriguá and a boat trip on the Rio Dulce.
Accommodation options
In the following section you will see our suggested options for possible accommodation.
The estimated flight cost included in this itinerary (assuming international flights from the UK plus any internal flights that are necessary) is £1,050 per person.
Standard - £2,590
El Convento Boutique Hotel - 4 blocks from the main square in Antigua. Beautifully renovated rooms, some with their own terrace.
Jungle Lodge - actually inside Tikal National Park, so you can visit the ruins early in the morning without the crowds.
Posada de Santiago - a friendly hotel on the far shores of Lake Atitlan.
Price and validity notes
We have tried to give you as accurate an idea of prices as possible, including meals where appropriate (but not when there are good local options so you don't pay for a meal that you might not want), accommodation, transfers, and any tours we have included.
All prices are per person based on two people sharing a room and are intended as a guide (local high or low seasons can cause some variation). All prices were correct when published but may vary with exchange rate fluctuations, fuel surcharges, or changes in the general economic situation.