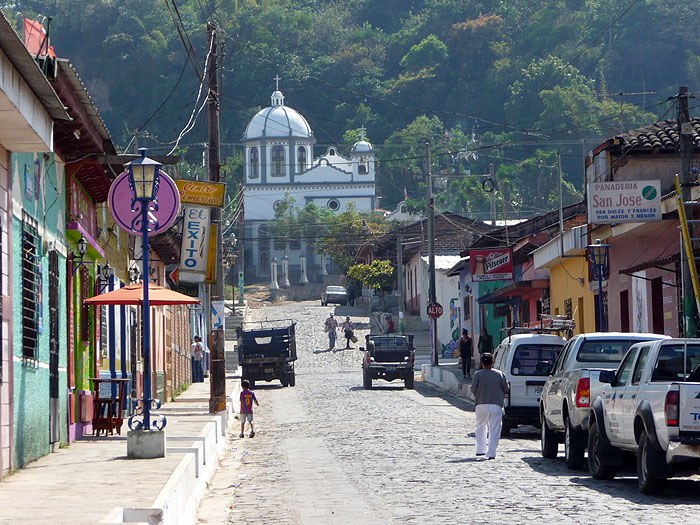 Classic El Salvador
a close encounter with nature, local communities and history of this tiny, less-visited Central American country
A 14 day trip through the varied terrain of this small and friendly country: volcano hikes, visits to peaceful Maya ruins, the beautiful area known as the ruta de las flores, and the Pacific coast.
To enquire about this itinerary, or one like it, please email us or click the Enquire button.
Itinerary summary
Colonial heartlands
Days 1-3: On arrival in San Salvador you will be driven directly (around 2 hours) to Suchitoto for three nights in this lovely colonial town. You will have guided excursions to Suchitlán lake, Los Tercios waterfall, and experience community life at La Mora village.
Days 4-5: Return to San Salvador for two nights. A tour of the capital will include the Puerta del Diablo mountain - a sacred site to the pre-Colombian Pipil people. You will have the opportunity to hike San Salvador volcano, visit the ruins of Joya de Cerén, San Andrés and the Natural History Museum. The village of Joya de Cerén gives a very different glimpse of the Maya people - its once-thriving farming community was buried under ash, Pompeii-like, during a catastrophic volcanic eruption about 1,400 years ago.
Coffee region
Days 6-7: Driven along the ruta de las flores ('flower route'), so named because of the proliferation of flowers, coffee plantations and trees in the area. Spend two nights here, visiting a coffee plantation (with the option to do a canopy tour) and the nearby quaint towns of Apaneca, Ataco, Juayúa, Nahuizalco and Salcoatitáneach. Nahuizalco is known for its wicker and wood furniture, Ataco for its woodcarvings, paintings, ceramics, weaving and murals, and Juayúa has a black Christ and vendors selling locally prepared food.
Days 8-9: Driven to El Imposible National Park, one of the largest reserves in the country, with a wide variety of flowers, birds and animals in 13,000 acres of forest. It is mountain tropical rainforest, ranging in elevation from 300 to 1,450m with a selection of hiking trails.
Pacific coast
Days 10-14: A final four nights in Barra de Santiago, one of El Salvador's most scenic beaches, bordered by a palm-lined estuary on one side and the Pacific on the other. Here you can explore a protected reserve of bird-filled mangrove channels, a traditional fishing village and of course beautiful, wide, sandy beaches.
Accommodation options
In the following section you will see our suggested options for possible accommodation.
The estimated flight cost included in this itinerary (assuming international flights from the UK plus any internal flights that are necessary) is £590 per person.
Standard - £2,930
A selection of properties offering good value without compromising on location.
Price and validity notes
We have tried to give you as accurate an idea of prices as possible, including meals where appropriate (but not when there are good local options so you don't pay for a meal that you might not want), accommodation, transfers, and any tours we have included.
All prices are per person based on two people sharing a room and are intended as a guide (local high or low seasons can cause some variation). All prices were correct when published but may vary with exchange rate fluctuations, fuel surcharges, or changes in the general economic situation.