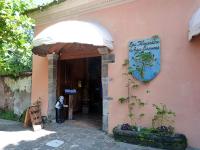 Los Almendros de San Lorenzo
Location
Suchitoto (San Salvador and the East, El Salvador)
Description
A charming and beautifully appointed boutique hotel with character, just a few steps from the main square, with rooms set around two courtyards, an outdoor pool, bar, air-conditioned restaurant and traditionally furnished sitting room. Breakfast can be eaten on the terrace.
Activities
One of the owners is an artist who also runs an interesting gallery in the historic colonial house opposite.
Accommodation
The 12 rooms are all slightly different, each with its own individual charm, but spacious and well equipped with a television and air-conditioning.
Our comments
A relaxing and welcoming spot in this lovely little town. Excellent English spoken and very friendly staff.