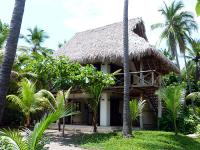 La Cocotera
Location
Pacific coast (Coffee region and the West, El Salvador)
Description
A boutique ocean front hotel nestled in a coconut palm grove at La Barra de Santiago, between the Pacific ocean and a natural protected estuary. There is a pool, restaurant, bar and lounge. The beach stretches for miles and you can walk to the local fishing village.
Activities
Kayaking in the mangroves, boat trips, fishing with the locals and surfing.
Accommodation
There are 4 bungalows, each with 2 rooms with a view to the ocean or estuary. Ground floor rooms have a terrace and the upper floor rooms have a balcony, they are all very stylish, tastefully furnished and well equipped with air-conditioning, a flat screen TV and complimentary wifi. They are lovely and light with high vaulted ceilings and decorated with local materials.
When to go
From September to February there is a turtle release programme and each guest is invited to release a baby turtle.