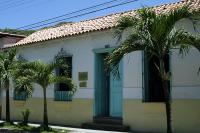 Posada Caribana
Location
Rio Caribe Village (The Paria Peninsula, Venezuela)
Description
In a colonial villa in the small town of Rio Caribe.
Activities
Free days to visit a cocoa hacienda or a buffalo breed farm or organise a tour to the green Paria Peninsula. You can also relax on the beaches at Playa Medina or Playa de Uva.
Accommodation
The posada has 11 simple but comfortable rooms with original features set around a patio.