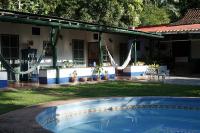 Hacienda Bukare
Location
Near Rio Caribe (The Paria Peninsula, Venezuela)
Description
The hacienda was built in 1908 and is a cocoa plantation making delicious chocolate. It is owned and managed by the friendly Esser family
Activities
You can have a tour of the plantation (unfortunately visits are not permitted to the actual factory) and see how the cacoa grows and the processes that make it into chocolate. You can also taste the different varieties, yummy! Playa de Uva is not too far away, for a bit of beach time. Tours to the Cerro de Humo can also be arranged.
Accommodation
The four large rooms overlook a small garden and plunge pool and there are hammocks outside for relaxing in. Meals are taken in the dining room and are traditional and tasty. There is also a small bar.
Our comments
The hacienda has a lovely old feel and learning about the chocolate-making process is very interesting. The owners and staff are all extremely friendly.