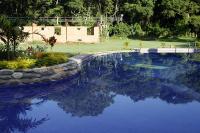 Hato Cristero
Location
Just outside Barinas (The Llanos, Venezuela)
Description
A traditional, family run ranch with a large pool just outside Barinas surrounded by colourful gardens. The owners pride themselves on their hospitality and wonderful home cooked cuisine.
Activities
Activities include riding and guided walks around the grounds.
Accommodation
There are 16 rooms offering a mix of doubles, triples and family cabins dotted around the garden.
Our comments
The wildlife is not a touch on that found deeper in the llanos but wonderful, local food and ideal for one night stays before an early flight out the following day.