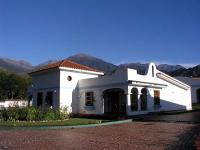 Prado Río
Location
Mérida (The Andes, Venezuela)
Description
Smart, modern 4 star hotel with good facilities.
Accommodation
Nice restaurant with views to the hills, large pool and spacious relaxing areas. Rooms are comfortable and have balcony overlooking the gardens. Hairdresser and spa/massage parlour on site.
Our comments
Currently the best option in the centre of Mérida, just 5 minutes walk down the hill into town.