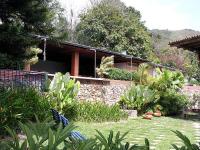 La Pedregosa
Location
Mérida (The Andes, Venezuela)
Description
Recently renovated 4 star hotel in a pleasant suburb of the city, slightly higher up and therefore cooler than other more cental options.
Accommodation
Gym, nice pool and plenty of sun-loungers. There is also a children's pool, with a pizzeria restaurant overlooking the area. Rooms are spacious and some have bath-tubs (very rare in Venezuela!).
Our comments
A good, friendly hotel for anyone (especially a family) wanting a base in Mérida itself.