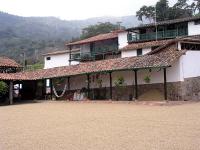 Hacienda El Carmen
Location
50 minutes Mérida (The Andes, Venezuela)
Description
A working hacienda in Jají, which grows and harvests coffee. There are 10 rooms for guests to stay overnight and witness a traditional and charming way of life, hidden in the Venezuelan Andes.
Accommodation
The rooms are very simple and rustic, clean and comfortable, although rather basic. There is a communal dining room and a terrace with chairs overlooking the central courtyard. Upstairs there is a small museum with ancient farming artefacts. In December and January, the courtyard is filled with coffee beans drying in the sun on the cobbles, and a heady aroma fills the air.
Our comments
Interesting to visit as part of a tour of the Andes.